Sunday night I participated in a Webinar with Eve Harow for the One Israel Fund.  For those of you who might not have signed up, or who signed up but were not able to see it because of a Zoom glitch, I provide a link to it here:
https://oneisraelfund.org/trips/guarding-israel-critical-juncture/
~~~~~~~~~~
It is a bit difficult now to recount precisely how many times members of the governing coalition seemed about to drop out, thus opening the door to the demise of the government.  "Seemed" is the operative word. We stood on the side as observers to this interminable process, attempting to separate fact from rumor – a near impossible task. All in all, an exhausting experience that served our nation badly.
Of late, it was Nir Orbach who played the political Hamlet: to leave or not to leave, that was his question.  To acknowledge that it was enough and the government could not work, but then to confront the pleading and the ire of long-time close associate Naftali Bennett.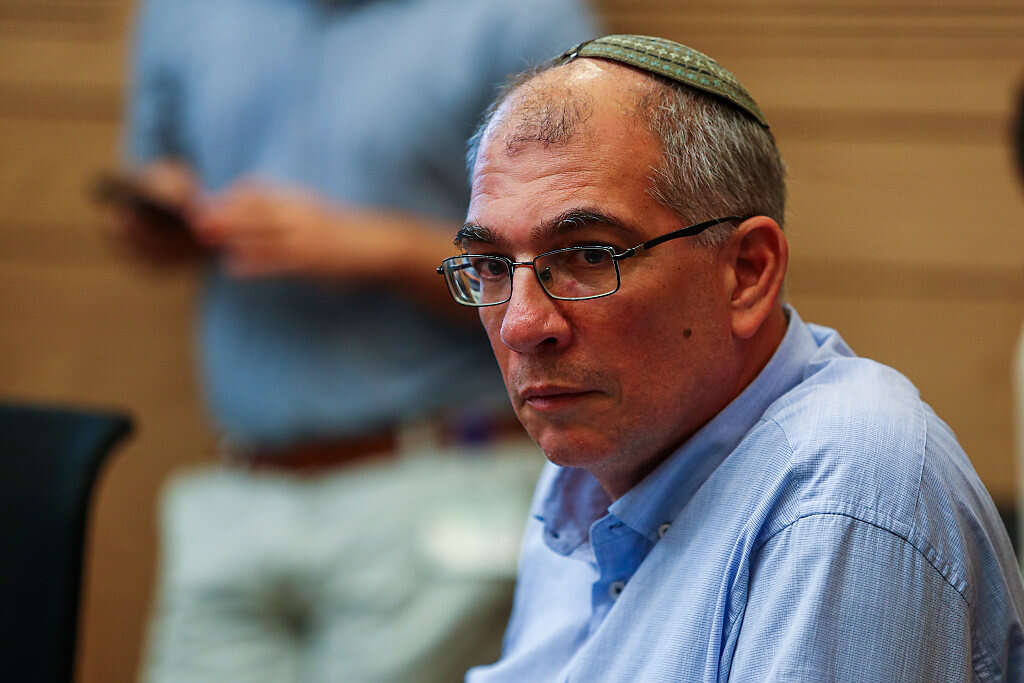 Now we know that Orbach had finally made up his mind to leave.  We know because the governing duo of Prime Minister Naftali Bennett (Yamina) and Foreign Minister Yair Lapid (Yesh Atid) decided to pre-empt him.  Had Orbach chosen to stay with them, they likely would have hung on longer: But better to be pro-active than to endure yet one more humiliation, one more rejection.  Then too, there was the issue of the legislation for Judea & Samaria residents, which this coalition was not able to advance.
~~~~~~~~~~   
And so, late Monday, Prime Minister Bennett (Yamina) and Foreign Minister Lapid (Yesh Atid) – the architects of the current coalition – announced in a joint press conference that they would bring forth a bill for the dissolution of the Knesset. This will automatically trigger new elections.
Those elections are to be held October 25, some weeks after the three months required following the dissolution of the Knesset. Most certainly the Holiday season from Rosh Hashana through Sukkot – which brings us into mid-October – was factored into the scheduling.
In the interim – until after the elections and the establishment of a new government – the roles of Bennett and Lapid will be reversed in accordance with their agreement.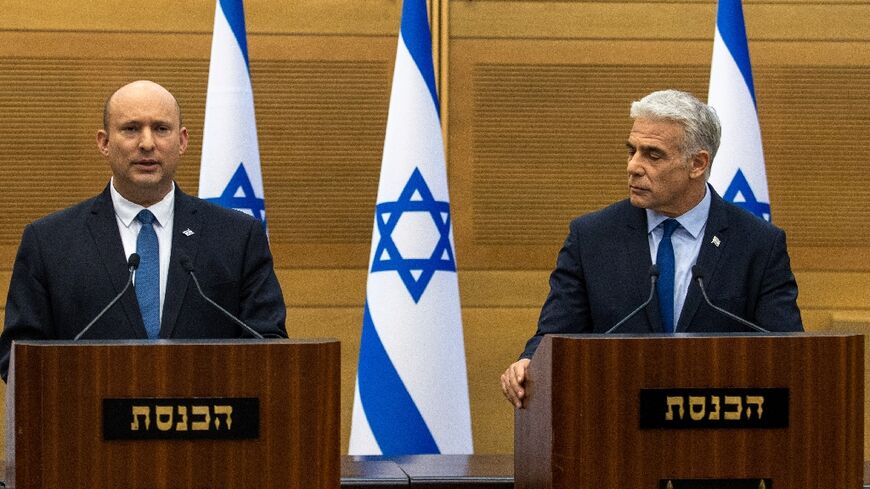 Yair Lapid is about to become interim prime minister.  And it is Lapid who will greet Joe Biden when he comes to visit next month (more on this below).
It is significant that Bennett notified very few people before making this announcement – not the totality of his Yamina faction (which is miniscule) and not Defense Minister Benny Gantz (Blue & White). This is not the action of someone eyeing a dynamic political future. And, indeed, Bennett's political prospects down the road are anything but bright; the media is rife with speculation on this matter.  
~~~~~~~~~~
One of the people who was not notified was Minister of the Interior Ayelet Shaked, Bennett's long-time associate both in the formation of Yamina and in HaBayit Hayehudi (Jewish Home) and the New Right party prior to this.  Both she and Bennett had come out of Likud.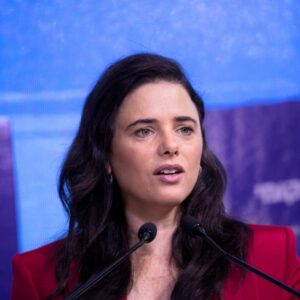 Shaked suffers from an affliction that is all too common in Israeli politics, as she has moved from affiliation with one party to another, without establishing a committed base. Of course, the very same might be said of Bennett, whom she followed much of the time.
Reportedly Bennett refrained from letting her know of his decision because he was angry at her for having negotiated with Likud on a position in that party, as she considered bolting Yamina. She was on a plane to Morocco when the decision to disband was made public; she learned the news upon her arrival.
At this point it is not apparent she will have anywhere to go.  She missed her opportunity with Likud, which no longer needs to lure her in, as the coalition is imploding on its own.  Seems Shaked may have missed her chance because she vacillated, but then again, Likud loyalist Miri Regev was opposed to bringing her back into Likud.
~~~~~~~~~~
What never ceases to amaze me about the political process is the manner in which anything can be spun as positive. We see it now, with declarations from Bennett and others that the experiment of the now-to-be-defunct coalition was a success.  It demonstrated, they crow, that people with diverse positions can come together in a cooperative spirit.
But I will continue to maintain – as I have throughout – that quite the reverse is the case: The experiment was an abysmal failure.  Political persons embracing strikingly diverse ideologies can come together only so long as those ideologies can be stifled in the name of the greater good of unity. Yes, the coalition was successful in preventing an election for a period of a year, and did successfully pass a badly needed budget, without which various ministries had difficulty in functioning.
But it did not take long for the government to fray at its edges because of the enormous diversity of ideological positions it represented, and it was inevitable that this should ultimately rip it apart.
Most disturbing with regard to the coalition was the presence of the Ra'am party, upon which that coalition actually depended.  Again the spin, as we are told that it was a positive matter to finally have an Arab party in the government, a sign of national maturation and increased diversity.
But Ra'am is not simply an "Arab" party, it is the political arm of the Islamic Movement of Israel, Southern branch – a spin-off of the Muslim Brotherhood. Whatever gracious and moderate words Ra'am's chair, Mansour Abbas, offered the Knesset and the electorate, the fact remains that he answers finally to the Islamic Movement, which is anti-Zionist and seeks to take down Israel as a Jewish state.
Never should such a party have a place in an Israeli government again. Recent polls indicate that the majority of Israelis do not want an Arab party in the Knesset.
~~~~~~~~~~
And here we come to the heart of the matter: Israel needs a cohesive, solidly right-wing government in order to protect and advance Zionist values and Jewish rights to the land.  We have been losing ground at a disturbing rate:
At present, some 20% of Area C, which according to Oslo is under the exclusive control of Israel, is now in Palestinian Authority hands.  There are some 75,000 illegal structures in Area C, most funded by the European Union. Additionally there is usurpation of land via Arab construction of infrastructure such as roads, and Arab agriculture.
The Civil Administration, which functions under the umbrella of the Ministry of Defense, does take down some structures. But there is always a net gain for the Arabs, as they are putting up an average of seven new structures per day. The position of Defense Minister Benny Gantz has been problematic here.
It is time for a government that cries "Enough!" and is persistent in stopping, indeed reversing, this land theft.
~~~~~~~~~~
As to the European Union, whatever gestures with regard to trade and more it may offer Israel, it demonstrates a decidedly anti-Israel tilt.
I recommend Melanie Phillip's piece, "The EU's Jerusalem charm offensive" on this matter.
"Despite all the warm words in Jerusalem, there's no sign that the longtime hostility towards Israel is about to ease."
https://www.jns.org/opinion/the-eus-jerusalem-charm-offensive/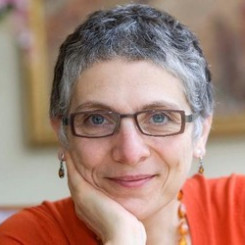 ~~~~~~~~~~
And then there is Biden, who heads a decidedly pro-Palestinian Arab administration in the US. One only need look at Biden appointments to understand this.  Take, for example, Deputy Assistant Secretary of State for Israel and Palestinian Affairs Hady Amr, who was here recently as part of an advance delegation before Biden's arrival in July.  
Back in 2001, Amr wrote, "I was inspired by the Palestinian intifada."  A year later he declared that Arabs "…will never, never forget what the Israeli people, the Israeli military and Israeli democracy have done to Palestinian children…" 
https://www.jns.org/opinion/the-problem-with-hady-amr/
~~~~~~~~~~
Biden will come here with an agenda that includes securing political perks for the Palestinian Authority.  Perhaps most troublesome is the push to re-open the consulate on Agron Street in Jerusalem as a de facto embassy to the PA, which has the effect of calling into question Jerusalem united as the capital of Israel.
It is scant comfort that Lapid – a centrist two-state man — will be interim prime minister when Biden arrives. He must be backed/pressured by right-wing elements who might help him stiffen his spine when confronted with demands. My fervent hope is that if he does make concessions they are of a sort that can be reversed when a new government comes in.
~~~~~~~~~~
Binyamin Netanyahu, who is enthusiastically celebrating the imminent demise of the current government, would have us believe that he is the leader who can set things right (double entendre intended).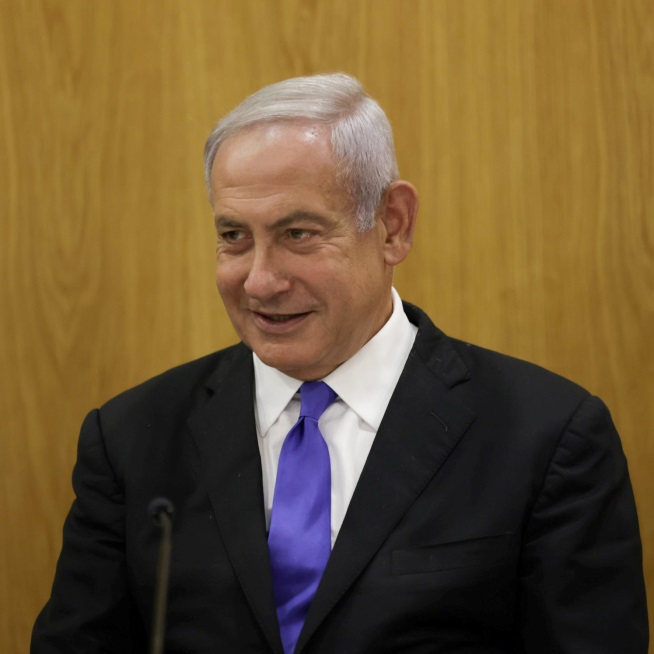 But this, too, is spin.
He has a great deal going for him: he is political savvy, has a solid international reputation, and has promoted a strong stance on Iran.
But the Arabs did not build 75,000 illegal structures in Area C in the past year.  Much of this was done under Netanyahu's watch.  While he would have us believe that he is right-wing, I would call him a centrist who tilts right part of the time.
We have seen the first step towards an improved governmental situation, but we are not yet where we need to be.  We are in for some tough electioneering in the next four months. There are those – Gideon Saar key among them – who still see blocking Netanyahu as the primary goal of the election.
The reality is that Likud is by far the largest party and polls show an increase in the number of mandates it will secure compared to the last election.
And I should mention that if Netanyahu were to be replaced as head of Likud, the number of mandates the party would receive would go down: He still has a fiercely loyal following.  But polls are not showing that at present Likud and accompanying parties would pass the threshold of 61 or more mandates.  This will require intense electioneering and we must pray for its success.  An electoral stand-off would not be in the country's interest.
~~~~~~~~~~
The best way to secure a genuinely right-wing government is by supporting and strengthening the Religious Zionist party, so that it is a factor of influence within the new coalition.
We will be watching this closely.
~~~~~~~~~~
© Arlene Kushner. This material is produced by independent journalist Arlene Kushner. Permission is granted for it to be reproduced only with proper attribution.